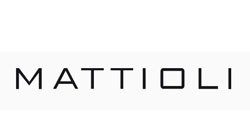 Active members
Mattioli Gioielli
Chairman: Licia Mattioli
At the end of the eighteenth century born the oldest goldsmith's workshop in Turin that held the historical gold hallmark: "1 TO". The hallmark was issued by the Piedmontese authorities to this goldsmith's workshop specialized in the creation of jewellery and inlaid gold necklaces, made by skilled workers who took the pieces from the melting of the gold ingots to the finished piece.  In 1996 the family Mattioli acquires the goldsmith's workshop and there began a big phase of renovation, thanks to considerable investments in technology, human resources and training and also the, launch of a new range of products under their own name in 2000. This was the birth of the brand Mattioli, which under the guidance and the creativity of Licia Mattioli, trained as a lawyer and entrepreneur by vocation, begins rapidly to affirm in more than thirty countries. It is the ever-changing inspiration, drawn from nature, travel and art, transformed into "tales of dreams" that drive every jewel.
Modernity
The search for the most modern materials and techniques is matched by the unusual and original designs, unique in their field: the work of a staff composed of more than thirty-five master goldsmiths.
A devoted Staff of the R&D department propose to Licia Mattioli inventions with unique techniques that allow to the Mattioli's women to play with the shapes and colors of their jewels.
Who is the typical Mattioli client?
An independent and well-educated woman who makes careful choices, with considerable sensitivity and awareness of her personal taste, buying jewellery to please, but above all to please herself.
Licia Mattioli had only one aim: to develop "tale of dream", made from precious metals and multi-colour gems, characters ready to meet at a crossroads that sink its roots into culture and italian DNA.
Versatility, playfulness, color, elegance, and originality make of Mattioli an absolutely unique brand, a world made of jewels enriched of stories to tell.